Download Our Free Ebook
Stay Out of the News: 3 Steps to Building a Comprehensive Background Check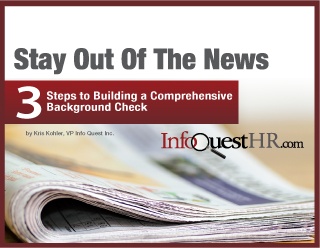 Stay Out of the News:
3 Steps to Building a Comprehensive Background Check
Avoid costly hiring mistakes by downloading our free Ebook. Learn about the three important areas of employment background screening which provide the foundation of a comprehensive background check.
Topics include:
How to Identify Your Best Candidates
Utilizing County, State, and Federal Criminal Records
Understanding the Effectiveness of Database Searches
Request your free copy today.
Info Quest, Incorporated
Surfside Business Center
812 South Poplar Drive, Suite 8
Surfside Beach, SC 29575
843-233-9675