Applicant Tracking →
Streamline your hiring process by taking advantage of our suite of integrated human resource management systems.
Background Screening →
Create a comprehensive pre-employment screening process with quick and accurate results delivered to your company's own secure, web-based portal.
Talent Assessments →
Utilize online reference checks and psychological profiling tools to gain a deeper insight into your best talent.
Download our free Ebook
Stay Out of the News
3 Steps to Building a Comprehensive Background Check
Get Your Copy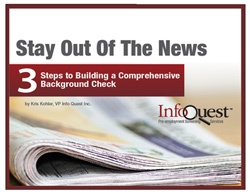 Subscribe to our blog
Get the latest HR industry news and updates.
View Our Blog
Latest post:
HR News Update: Overtime Rule Changes
After a long wait, the US has unveiled their final details to extend overtime pay to 4.2 MILLION more salaried workers. Officials have stated that the bill could increase the pay of some workers, but many are expected to receive the same pay for fewer work hours.
Info Quest, Incorporated
Surfside Business Center
812 South Poplar Drive, Suite 8
Surfside Beach, SC 29575